iPhone App: Here On Biz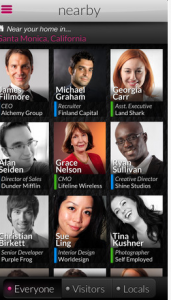 We work with agencies all of the United States, so it's common for us to be traveling in airport or hanging out in a hotel.   We recently discovered app called Here On Biz for iPhones that automatically syncs with your LinkedIn account to show you who is in your immediate vicinity and actually provides you with the opportunity to connect or chat with that person.
After you download the app, all you have to do is click on the LinkedIn icon where it will pull your profile information.  If you click on the button that says "nearby" it will show you people who in around you, whether are in your connections list or not.
As the company says in their app description: "No more unproductive evenings alone at the hotel lobby bar while traveling on business."
The app is free on iTunes, and the majority of reviews of 4+ on the site.  Give it a shot and see if you're able to connect!
To download the app you can click here.