Insurance Company Using Pinterest to Tremendous Success
You wouldn't normally associate insurance with being visually engaging.  However, Petplan Insurance has found a creative way to use Pinterest to sell insurance – and they're having tremendous success at it too.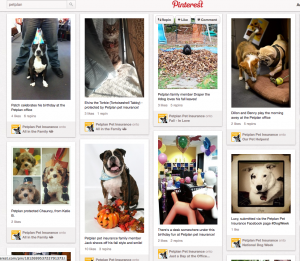 In fact, a recent article stated that in just one quarter, Petplan Insurance saw an "87 percent increase in new site traffic, a 35 percent increase in page views, and a 12.5 percent increase in insurance quote requests."
According to CEO, Natasha Aston, "Our approach is to make relevant and easy-to-digest pet health information available in a visually compelling format.  This helps us engage with the pet-loving community on Pinterest, and achieve some of our broader strategic goals for driving explosive growth."
Visiting Petplan's Pinterest page shows you what a great job they're doing at connecting with their consumers.
For example:
1. You have photos of the office celebrating a dog's birthday: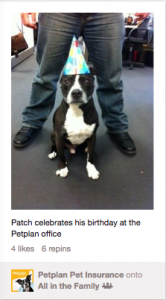 2. Photos of some of their insured pets: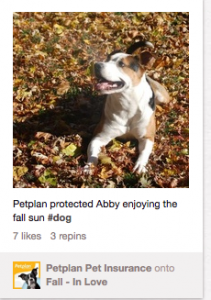 3. Photos of their offices showing their love of pets: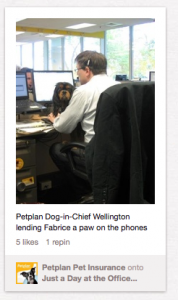 The photos not only create an immediate connection with existing customers, but new prospects are finding the company through re-pinned photos and articles.
The Pinterest page also serves another purpose – Petplan shares pet health information available on their company blog.  This leads consumers to their website and, for many, to receive quotes.
While insurance will always be a very hard industry to visually market, Petplan has found an ingenious way to do so and we're very impressed with their efforts.
For insurance agencies looking to improve their marketing efforts, especially through digital means, please contact our office at (801) 678-2756.