Case Study: Creating A Personal Touch With Your Website
One of the biggest obstacles many insurance agencies face in today's tech-driven world is how to harness the power of the internet while at the same time maintaining the human touch.
We came across this article published in October by Small Business Trends that had a fantastic example of how one web-based company has used its website to create positive human interactions with its clients.
The company is Saddlebag Leather Co., an online-only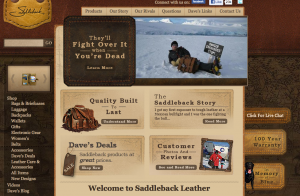 supplier of fine leather goods. They use humor, videos and blog postings on their website to introduce themselves to their customers and create the feeling they are your friend next door. They have posted everything from their religious views to an obituary of their pet dog on their site, all with the purpose of giving their customers a clear view of who they are.
Saddlebag Leather has even posted to its site a letter explaining price increases and telling people when the increases would take effect so customers could order products before prices went up.
By being human and up front with customers, Saddlebag Leather Co. has created a very personal relationship with its customers without ever meeting them.
What can your insurance agency do?
As an insurance agent, chances are high you won't be posting your dogs obituary on your agency's website. However, there are still many ways you can start developing personal interactions with you clients on your website and social media pages. The best way to accomplish this is through video by creating agency and agent introductions.
An agency introduction gives your customers and prospective clients an intimate inside look at your agency and what it aims to accomplish, while an agent introduction allows them to see you as a real person, not just an salesman peddling a product. By creating this personal interaction you begin using the greatest advantage you have. Yourself.
For information on creating agency introduction videos, please contact Goma Marketing at 801-678-2756.